In a little under 12 months' time, the 2019 World Cup will be in full swing on English soil, which means that the events of the coming fortnight will go a huge way to determining whether Australia, the five-times winners, are ready to add a sixth crown, or whether England, the hosts and pre-tournament favourites, are finally primed to break one of the longest ducks in world sport.
In any ordinary circumstances, that context would be quite sufficient to build the hype for an England v Australia showdown. This year, however, there's a whole new subplot on the agenda — one that can trace its origins to the shocking events in Cape Town in March this year.
When, during the third Test against South Africa, the Australia fielder Cameron Bancroft was caught on camera using sandpaper to rough up one side of the match ball, it set in motion a chain of events that led to the banning of the team's star batsmen — the captain and vice-captain, Steve Smith and David Warner — and the subsequent resignation of the coach Darren Lehmann.
Enter Tim Paine and Justin Langer, the new captain-coach combination, with a remit to reset Australia's credentials as a "play hard, play fair" cricket team, and persuade the world to move on from what has gone before and get back to focussing on the merits on on-field excellence.
Tim Paine has big shoes to fill as Australia's Test and ODI captain
"It was a horrendous couple of weeks for Australian cricket, but I hope the series is played in a good spirit," said Nasser Hussain, the former England captain and Sky Sports commentator. "What happened [in South Africa] was awful, but I hope England don't feel the need to bring it up and make it an issue, because it's all done and dusted.
"Australia are vulnerable," Hussain added. "I think England are a fabulous one-day side, I have them as firm favourites. Australia have always produced very fine cricketers and whoever comes here under Justin Langer, he will get them fired up and they'll be a very difficult side to beat. But I really fancy England in that particular tournament."
There are plenty of reasons to back up Hussain's optimism. Irrespective of England's erratic form in the Test arena, their one-day fortunes have been a revelation ever since they were taught a few life lessons at the 2015 World Cup. Under the leadership of Eoin Morgan, England have embraced a brave new outlook in one-day cricket, and this winter's twin successes in Australia and New Zealand, where they claimed the spoils in both ODI series, were the most uplifting moments of another Ashes-losing winter.
"I think England will want to carry on as they've been going," says Michael Atherton, the former England captain and Sky Sports commentator. "It's been a difficult few months but the one bright spot has been Morgan's team going to the top of the ICC rankings, and that's been built on two pretty solid years of one-day cricket post 2015 World Cup.
"They'll want to carry that form into next year's World Cup, but it's hard to see why they wouldn't do that. If you look at the team, it's a pretty solid team. There's nobody there that you'd look at and think they are at the end of the road, they'll keep that together to 2019 and be pretty confident, I think."
Nevertheless, if any series was designed to shake a settled team out of its comfort zone, it is an England v Australia match-up. That is especially true in the wake of England's 4-0 trouncing in the Ashes, and the occasional off-field flare-ups that defined a torrid winter Down Under.
"England must just play to win," says Hussain. "Don't worry about what happened in the Ashes. England v Australia is never a quiet happy shake-hands sort of thing, it'll be a tough series between two tough sides. But I think eyes will be on that series, and both captains should realise they are in charge of the spirit of the game as well. Look at the bigger picture, play tough, play fair. It's not just about winning and losing."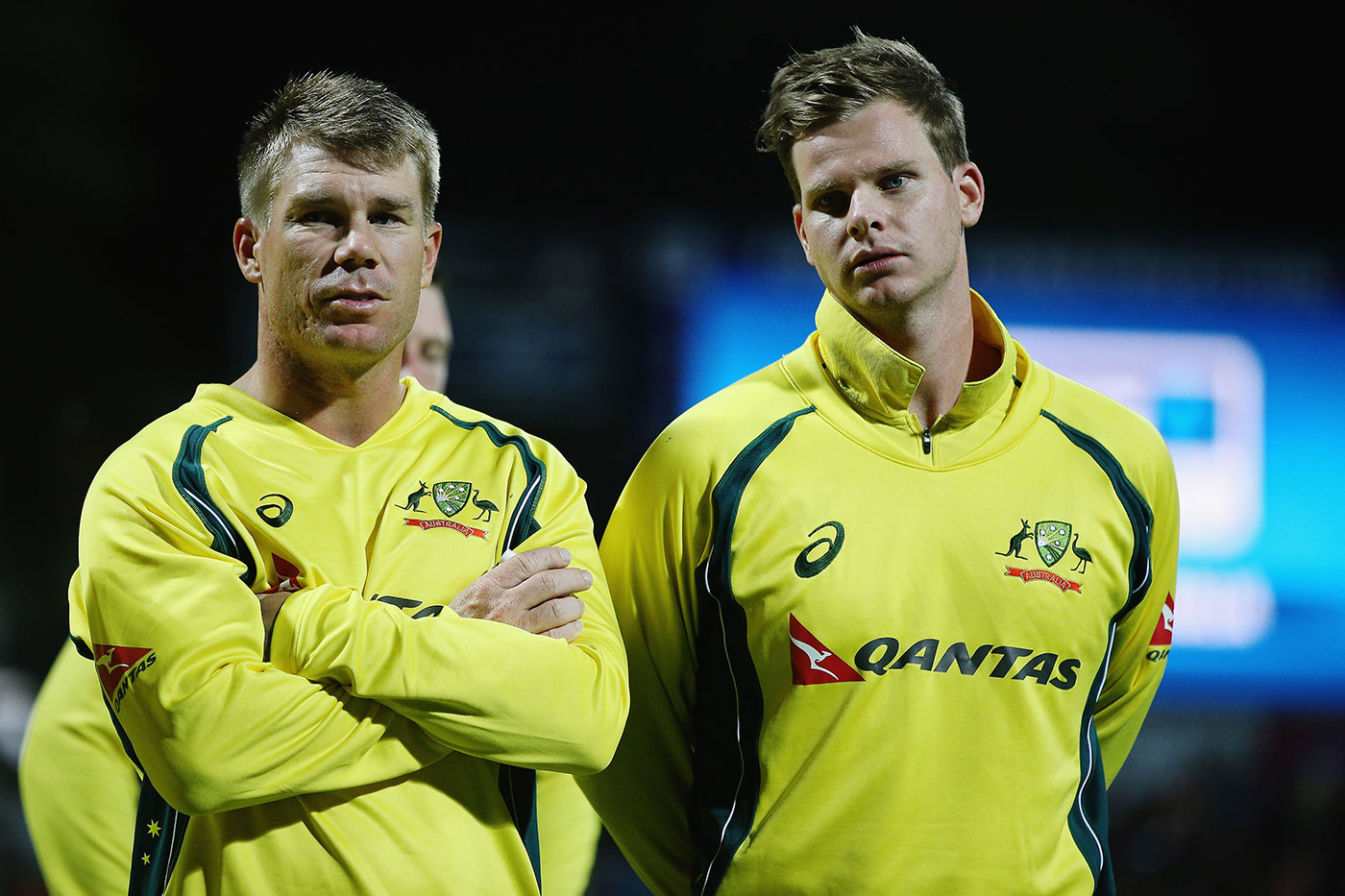 Steve Smith and David Warner will be notable absentees during the England tour
Without the services of Smith and Warner, let alone their big three bowlers — Josh Hazlewood, Mitchell Starc and Pat Cummins, all of whom are injured — Australia's pre-series expectations could hardly be lower. England themselves are missing Ben Stokes to a hamstring tear, although his absence in Australia didn't prevent them sealing a handsome 4-1 win in the ODIs, and with Jos Buttler in red-hot form, at both the IPL and in the recent Test series against Pakistan, they'll be targeting a continuation of the pedal-to-the-metal batting approach that Morgan has so successfully advocated in the past couple of seasons.
And yet, Australia did not become the most successful team in World Cup history without being able to overcome adversity, a point that their new coach will doubtless be drilling into them as we speak. "Langer will really instil in them the history of Australian cricket," says Hussain, "and the 'over my dead body' sort of attitude. 'Do you know who you are playing for? Don't let that history down.'"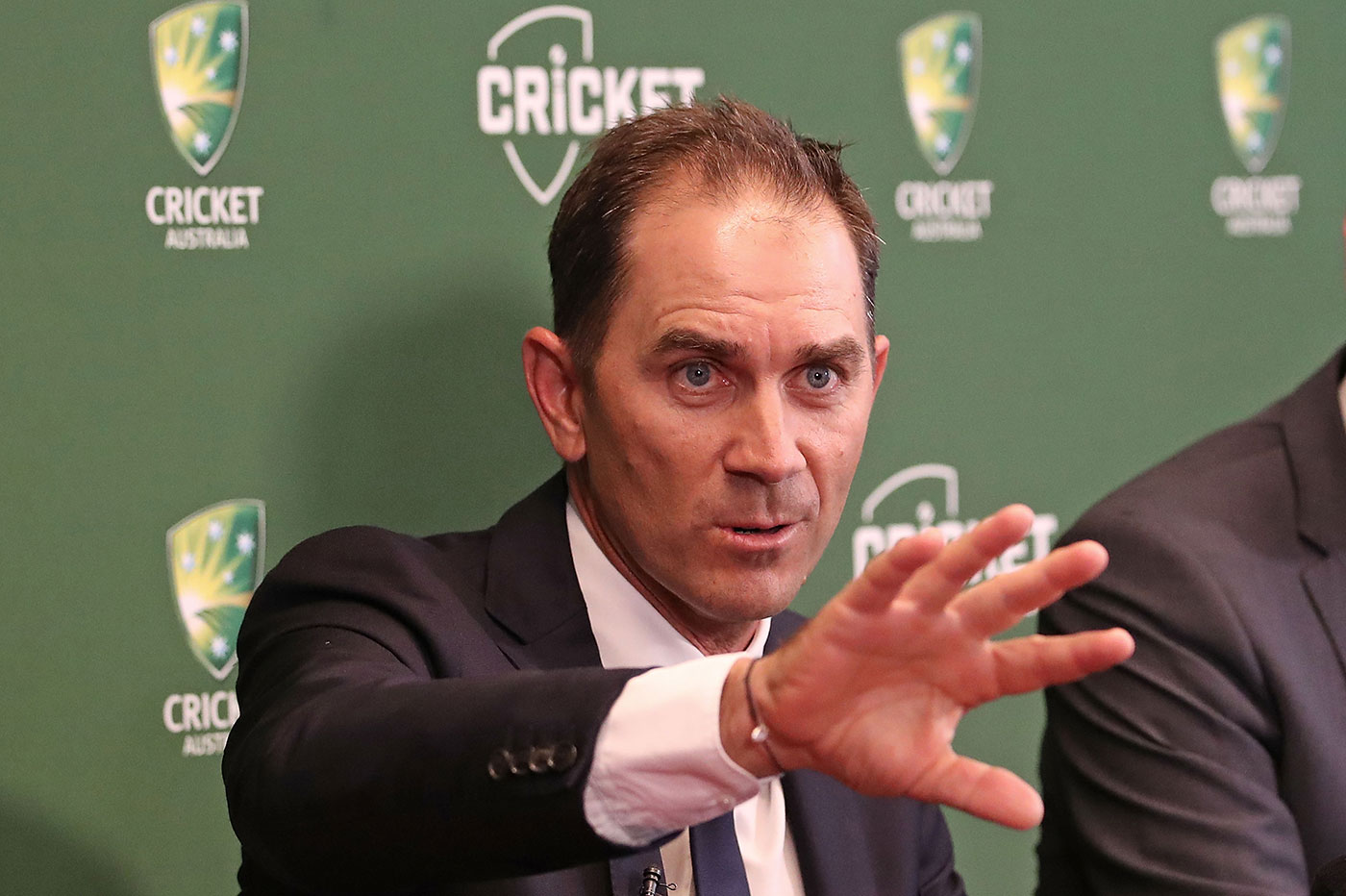 Justin Langer was unveiled in May as Australia's new coach
"Langer is a pretty impressive guy and cricketer with a tremendous work ethic," says Atherton. "Under Langer, Australia will work their socks off to get back to the top of the rankings. They are missing some huge players and on the face of it they don't look like they should be able to beat England at home in ODI cricket, but given the traditional strength in depth of Australian cricket, you'd be foolish to write them off."
See how Australia fare in five ODIs and one T20I against England this month. You can watch it all live and exclusive on Sky Sports Cricket.