It turned out, however, to be an apt metaphor for his team's fortunes. Despite their best Test endeavours of the winter, England slumped to another series defeat, 1-0 against the Black Caps to add to a 4-0 Ashes drubbing. Overall they have now failed to win away from home in 13 Tests and counting – a record barren spell for a side that had for so long placed Test cricket on a pedestal, and revered the red-ball game arguably to the detriment of all other formats.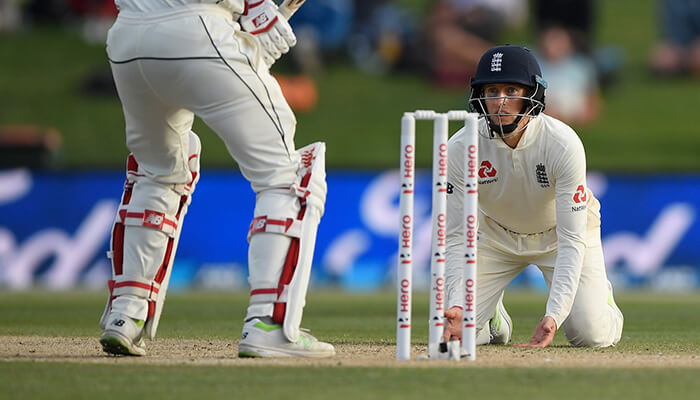 Root on his knees at silly point in the closing moments of the Christchurch Test
But look who's perched on that pedestal instead. In the first week of May, England's ODI cricketers were confirmed by the ICC as the world's No.1-ranked nation. It was the first time they had ascended to such heights since 2013 (the year in which they reached the final of the Champions Trophy) and it served as a reaffirmation of their stunning rise from the rubble in the wake of the last World Cup in 2015.
And though he defers to Eoin Morgan's leadership when red-ball turns to white, there's no questioning Root's fundamental importance to a team whose story is only just beginning.
Up to and including that 2015 World Cup, Root was one of England's few saving graces in one-day cricket – in that sorry campaign, he top-scored with 46 as England were routed by New Zealand in Wellington, while his free-flowing century against Sri Lanka was again left exposed by the shortcomings of the men around him.
But in the three years subsequent to that seminal World Cup thrashing, with men such as Jason Roy, Alex Hales, Jos Buttler and Ben Stokes given licence to cut loose, Root has been the eye of England's white-ball storm, the serene stamp of class mitigating the whirring blades of the trailblazers above and beneath him in the most potent batting order in the 50-over game.
Root bats with a silken sleight of hand that would impress a Vegas card-sharp – his eye for a gap turns dot balls into singles and deft deflections into boundaries, to such cunning effect that he will have invariably reached a run-a-ball 20 before you've even noticed he's started his innings. In fact, he's reached double figures in all but nine of his 51 ODI innings since that World Cup, and scored seven of his 11 hundreds in that time as well – a tally that only Marcus Trescothick, with 12, has ever exceeded for England.
And with barely a year to go until the 2019 World Cup – unquestionably the single biggest event in English cricket for a generation – he's helped manoeuvre the side into a position from which expectation and opportunity go hand in hand. England are currently 3/1 favourites to lift the trophy for the very first time, and with Australia, the defending champions, and a power-packed Indian outfit set to test their white-ball mettle this summer, those credentials are about to be given a stiff and timely examination.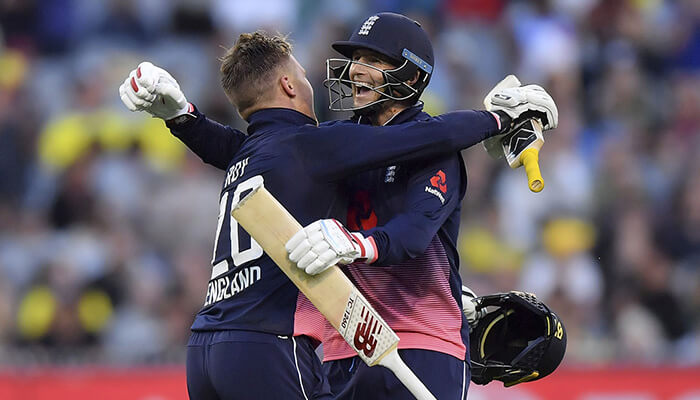 Root and Jason Roy have been integral to England's white-ball revival
But either side of those dates with destiny, Root has obligations to the form of the game in which his reputation has been forged, and in which his status as one of the game's true greats could yet be won and lost. Starting against Pakistan at Lord's on May 24, and concluding in August and September with a five-Test showdown against Virat Kohli's mightily driven India, it's a summer in which Root's only option will be to dig deep and bat long.
For it's been an exacting first year for England's new Test captain. It began with glory against South Africa at Lord's – a matchwinning 190 and a crushing 211-run win – but then descended all too soon into mediocrity and defeat. In many ways, the issues that beset England's one-day team pre-2015 – a core of unquestionable talent but a lack of clarity in key roles – have been transposed to the longer format and Root, then as now, has an near-impossible task to provide that stamp of quality on his own.
"Anyone who has ever played the game at any level knows there are good days and bad days," says David Gower, England's former Test captain and Sky Sports commentator. "Joe Root is a very special man, a very special player. Everyone learns as they go as captain, and even the bad times give you a clue as to what to do next time."
And to that end, there have been glimpses of what to expect as and when Root finds his authority as England's captain. At The Oval against South Africa, for example, with the series in the balance at 1-1, he removed his senior bowler, James Anderson, from the attack after just two overs, and turned instead to the debutant, Toby Roland-Jones, who rewarded his skipper with a matchwinning five-for.
Root then tried every trick in the book to dislodge his opposite number, Steve Smith, during the Ashes – most notably during the first Test at the Gabba, where Smith responded to a short-ball barrage with a majestic and agenda-setting 140.
And regardless of what subsequently happened to Smith in Cape Town, that innings marked a divergence in the narrative of two young captains who had been regularly name-checked, alongside Kohli and New Zealand's Kane Williamson, as the Big Four batsmen of their generation.
Smith went on from strength to strength during the Ashes, with two more centuries and a series haul of 687 runs at 137.40. Root, on the other hand, blinked at the crucial moments – with five scores of fifty in the course of the series, but nothing higher than his first-innings 83 at Sydney, when there was only pride to play for in the final Test. By the final moments of that same Test, he was flat out in the dressing-room, too ill with dehydration even to partake in the end-of-series presentations.
Two more unconverted fifties in the two New Zealand Tests added to the impression that Root's Test returns have plateaued, but Gower – another great batsman whose fluctuations in form could not disguise his inherent class – believes this winter's ordeal could yet be the making of the man.
"Joe has immense talent, the fact that he's not making big hundreds as often as he wants or as often as his fans want is a little bit of an issue," Gower says. "But if you are averaging 50 in Test cricket you are a very, very good player, which is what Joe is. As a captain you develop, as a team things change. But even if you have a bad series, a bad winter, you have a few weeks off, you come back. We're on the cusp of a new season, a busy international season, and you start afresh.
"I went through the mill," Gower adds. "I remember it all too well, against the great sides in the 1980s. You come back from a drubbing, you do go through your ups and downs, and you have to keep a strong perspective on that as you go."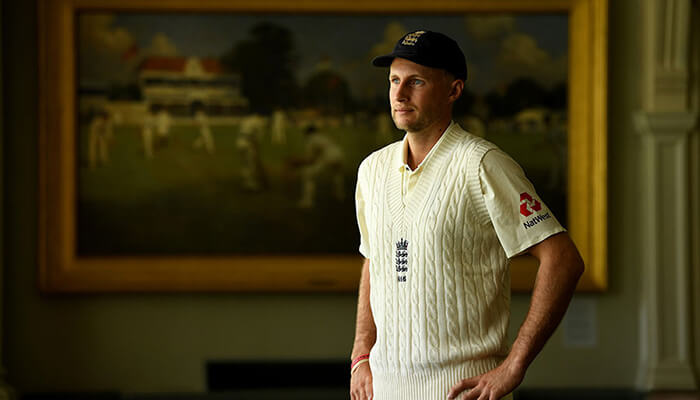 In the Long Room at Lord's ahead of his first Test as England captain in 2017
There was a sense of stagnation in England's Test cricket last month – a feeling that the team was under-performing but that no one individual could be singled out for blame. But England will need no reminding of the challenges that both Pakistan and India will present – particularly at Lord's, where both visitors emerged victorious on their last visits in 2014 and 2016 respectively.
And in India's case, it is hard to recall a more driven squad of players – not least Kohli himself, whose single biggest stain on his stunning international record came on that 2014 trip, when he was tormented by Anderson and averaged 13.40 in five Tests. The confirmation that he has signed for Surrey, in a bid to get acclimatised long before the series starts, is proof that he intends to park his tanks squarely on Root and England's lawn.
Kohli, in his current mood, has shown that it is possible to thrive in red- and white-ball cricket concurrently. He is, however, at the helm of two outstanding teams – until England's white-ball rise this month, India were the top-ranked team in both Tests and ODIs. As such he can take confidence in his colleagues in all situations, and build partnerships without feeling that the fate of the innings lies on his shoulders alone.
For Root, the situation is not so clear-cut. So many competing imperatives are stacking up for him this summer – the need to lead by example in the role that is his greatest honour, but also to keep enough in reserve to ensure that England's challenge for global silverware doesn't begin to fray before 2019 is even upon us. It's a dilemma that could define another action-packed English summer.
Watch Joe Root in action over the summer across all formats against Pakistan, Australia and India exclusively live only on Sky Sports Cricket. For more information on our coverage of the summer's biggest matches and to keep up to date with the stories as they unfold, visit Sky Sports Cricket