By the standards of most mortal cricketers, Kohli has absolutely nothing left to prove in any format of the game. Uniquely, he averages more than 50 in Tests, ODIs and T20Is, and in early 2018, his already stratospheric stature touched new heights on a personally triumphant tour of South Africa — after laying a marker with a brilliant Test hundred at Centurion, he crowned a 5-1 ODI series rout with three more centuries and 558 runs at 186.00.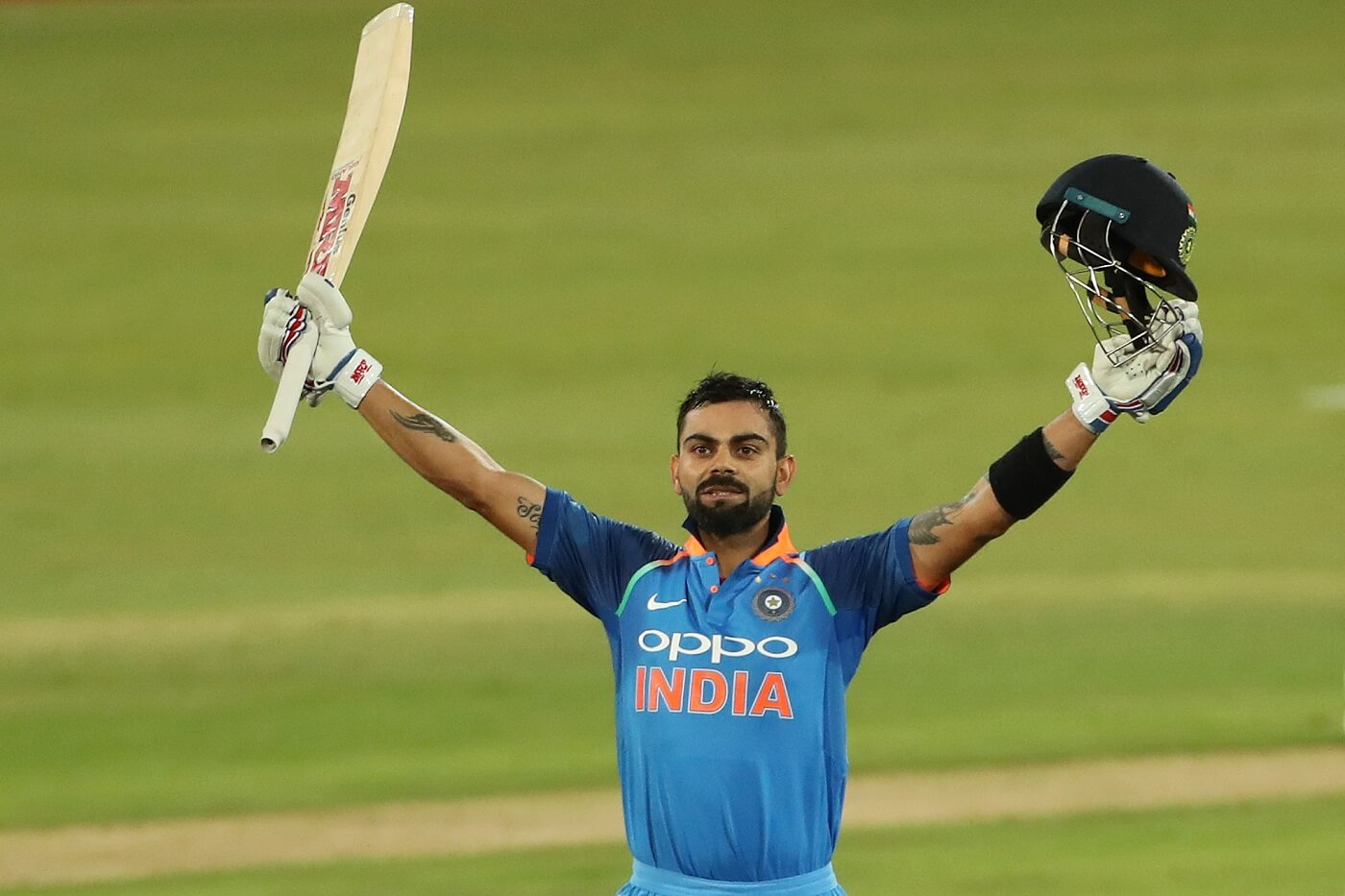 Virat Kohli scored his 35th ODI hundred during a triumphant tour of South Africa
At the age of 29, the world is already at Kohli's feet. And yet, with his prime years as a batsman still stretching out in front of him, he appears to have recognised that immeasurable fame and fortune is not sufficient for a player of his incredible talents.
He has an opportunity within his grasp, granted to only a handful of sportsmen in a lifetime, to make a bid for immortality, and how he fares on this summer's Test tour of England will go a huge way towards determining his place in the pantheon.
For that reason, Kohli had been willing to pay his own way to play county cricket for Surrey throughout the month of June, with a view to acclimatising to the conditions and leaving nothing to chance ahead of the main event.
Disappointingly for both player and club, that prospect was kiboshed last week by an untimely neck injury, sustained while fielding for Royal Challengers Bangalore during the IPL. And yet, Kohli's willingness to add to that already insane workload remains a tribute to his desire, irrespective of how his best laid plans have unravelled.
"Here you have the golden boy of world cricket at the moment," says Nasser Hussain, the former England captain and Sky Sports commentator. "He is arguably the busiest cricketer on the planet, he's just completed another massive long season, and the easy option would have been to stay at home, stay out of the limelight, then stroll into England and have a couple of nets. I really admire that he's taken the difficult, harder option."
In an era of instant gratification, when players can march from format to format, series to series, with barely a pause for orientation, Kohli's sense of purpose has laid down a marker for himself and his team, as well as thrown down a gauntlet for an England team who must surely recognise, if they didn't already know it, that this India team means business like few that have gone before it.
"I think Kohli has had a massive impact in the way Indian cricketers see themselves," says Michael Atherton, the former England captain and Sky Sports commentator. "I'm talking now about the physical side of the game. He's incredibly fit and dynamic, so they are producing different types of players from those that they used to."
Until he sustained a neck injury while fielding during the IPL, Kohli had planned to warm up for the tour with a stint of county cricket with Surrey. But even in his absence, other key members of India's squad will be assessing England's conditions ahead of the big showdown — Cheteshwar Pujara and Ishant Sharma are already deep into county stints with Yorkshire and Sussex respectively, while Ravi Ashwin is expected to return to Worcestershire later this season.
And if all has gone to plan for India come September 11, the scheduled final day of the fifth Test at the Kia Oval, then Kohli and his team-mates will doubtless choose to reflect on the joys of delayed gratification — that sweet release that comes only after you've put every ounce of your mind, body and soul into an endeavour and emerged triumphant.
In Kohli's case, however, that delay clearly extends back to his previous tour of England four years ago — a rare blot on his otherwise supreme record — which is precisely why he is attacking this summer's campaign with the vigour of a man who wants to reframe his personal narrative.
The 2014 tour of England was a chastening one for Kohli. His tally of 134 runs at 13.40 was a testament in particular to the world-class swing bowling of James Anderson, who claimed his wicket in four out of ten of his innings, invariably to hard-handed drives as he tried to impose his natural fluency in alien conditions.
"He'll want to do well here," says Atherton. "I still think there is a feeling that in order to be seen as the great allround player, you need to do well in England, to show you can cope with the moving ball. But I have no doubts he's going to be successful, because he is a fantastic player."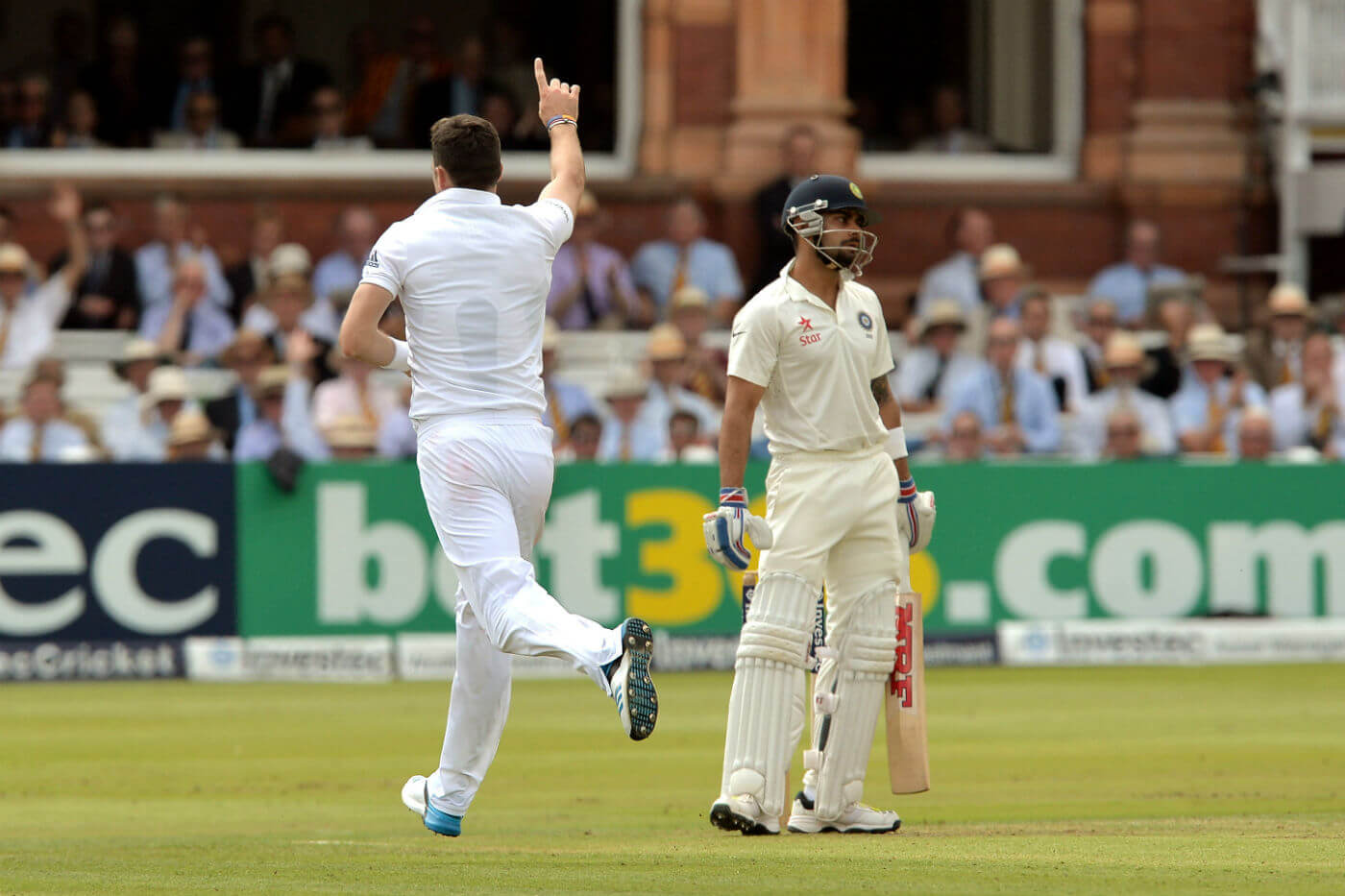 James Anderson got the better of Kohli in 2014, but this time he's determined to make amends
But neither is there any doubt how keenly Anderson is looking forward to doing battle again with one of his favourite foes. Anderson will have turned 36 by the time the series gets underway, but with 55 wickets at 17.58 in 2017, he's arguably in some of the best form of his life.
"I reckon Anderson-Kohli is the story of the whole summer," says Rob Key, the Sky Sports commentator. "It's going to be a fascinating Test series, but if you go in for the Klitschko-Joshua big build-up to big fights, then here you have two greats of two countries, going at it toe-to-toe, with one of them trying to prove he can do it in England."
It's a contest that will come with plenty needle as well. That much was clear from Anderson's oddly churlish comments in the wake of England's 4-0 thrashing in 2016-17, when Kohli exposed a formidable gulf between the teams, in Indian conditions at least, with a massive haul of 655 runs at 109.16.
"I'm not sure he's changed," Anderson said at the end of the fifth Test. "I just think any technical deficiencies he's got aren't in play out here. The wickets just take that out of the equation."
It was a parting shot that has not gone unheard by the visitors.
"Historically, I don't think there's bad blood, it's just two aggressive sides," says Hussain. "I think that's great for Test match cricket.
"India have produced some tough cricketers who aren't going to be walked all over," he adds. "They cope with the moving ball well, they don't get bullied with the short ball anymore, they are very good above the waist, and they are producing seam bowlers who bowl in the high 80s [mph]. I think it'll be a good even contest."
The England series offers Kohli a chance to cement his place among the greats of Test cricket
It also promises to be a reminder — in a world that seems dominated by shorter, faster formats — that there is no narrative more compelling than a fully formed Test series between two utterly committed opponents. And as a consequence, win or lose, the game will surely owe Kohli and his team-mates a debt of gratitude for the groundwork they have been willing to lay.
"These are very busy cricketers, very wealthy cricketers, they don't need to do this," Hussain says. "Kohli wasn't going to come for a few quid from Surrey, he told them, 'pay my airfare and a few hotel rooms and I'll come and play'.
"He wanted to make himself a better cricketer, and to give himself the best chance to be successful and by that, give his team the best chance to be successful."
See Virat Kohli in action this summer for India during their five-Test series against England. You can watch it all live and exclusive on Sky Sports Cricket