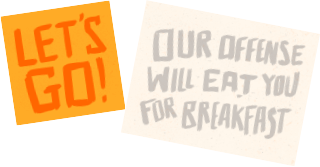 BRING YOUR BEST SIGNS
TO COLLEGE GAMEDAY
On-Site GameDay Guide
EVENT SCHEDULE
What is College GameDay Built by The Home Depot?
ESPN's College GameDay Built by The Home Depot is college football's premier pre-game show. Entering its 36th season, the show travels to a different college campus or game site each week of the season from early September through the College Football Playoff National Championship in January. The locations - usually announced a week in advance - are chosen by ESPN based on competitive matchups, rivalries and other factors.
How can I watch the live broadcast?
College GameDay airs at 9am - noon ET on ESPN and ESPNU throughout the football season and is available for streaming through the ESPN App. ESPN's social and digital pre-pre-game show Countdown to College GameDay begins at 8:30am ET weekly and is available to watch on Twitter, YouTube, Facebook and the ESPN App.
How do I get selected to stand in the pit during the live broadcast?
Students and fans have the opportunity for up-close view of the show by standing in the pit immediately adjacent to the stage. Selection is on a first-come, first-serve basis for all fans. Students admitted to the pit are encouraged to wear school colors and should have a numbered wristband. Participants are subject to ESPN security procedures and policies.
What is the ESPN policy for pit participants?
The following items are prohibited in the pit: bags (of any kind), food and drinks, pens, pencils, markers or dry erase boards and signs on sticks. Throwing objects is strictly prohibited in the pit. A number of sign regulations are required as well.
What are the College GameDay sign regulations?
One of the most beloved traditions associated with College GameDay is the making of signs. No vulgar signs, .com, .net, .org, political or religious signs are allowed. For fans entering the pit, signs cannot be on poles or oversized. All signs brought to Saturday's taping will be inspected before entry and must abide by College GameDay's sign policies or will be removed.