In Partnership with

With the release of The NBA 2K21 Mamba Forever edition in honour of the late, great Kobe Bryant, ESPN's Mark Woods explores how the lifelong pursuit of victory and legacy of the Lakers legend remains an inspiration across the NBA and far beyond - and what the Mamba Mentality means to those who share his passion for the game.
The desire for incomparable greatness, Kobe Bryant preached, was worth the risk of indelible failure.
Better to try and fail in life, than do nothing and stand still.
"When it came to basketball, I had no fear," he outlined in his book 'The Mamba Mentality'.
"What I mean by that is: if I wanted to implement something new into my game, I'd see it and try incorporating it immediately. I wasn't scared of missing, looking bad, or being embarrassed.
"That's because I always kept the end result, the long game, in my mind. I always focused on the fact that I had to try something to get it. And once I got it, I'd have another tool in my arsenal.
"If the price was a lot of work and a few missed shots, I was OK with that."
Eight months after his tragic death in a helicopter crash in California, the world has altered immeasurably from the one we knew then.
Yet his spirit, and his influence, lives on, within the basketball universe, and beyond.
"A day doesn't go by when I don't think about him," current Los Angeles Lakers talisman LeBron James recently acknowledged.
"A day doesn't go by where our organisation does not remember him."
On what would have been Bryant's 42nd birthday on 23 August, it was a moment -- if one were needed –- for many to turn thoughts to an icon departed too soon.
"You changed the world with your mentality and work ethic," said former Laker and British basketball eminence, Luol Deng, in a social media post.
"You continually pushed yourself to be better while challenging others to push to their full potential. Forever Kobe. We miss you."
The KB patch embroidered in memoriam on the Lakers jerseys has served as a visible tribute within the NBA's extraordinary reinvention within a bubble in these times of Covid-19.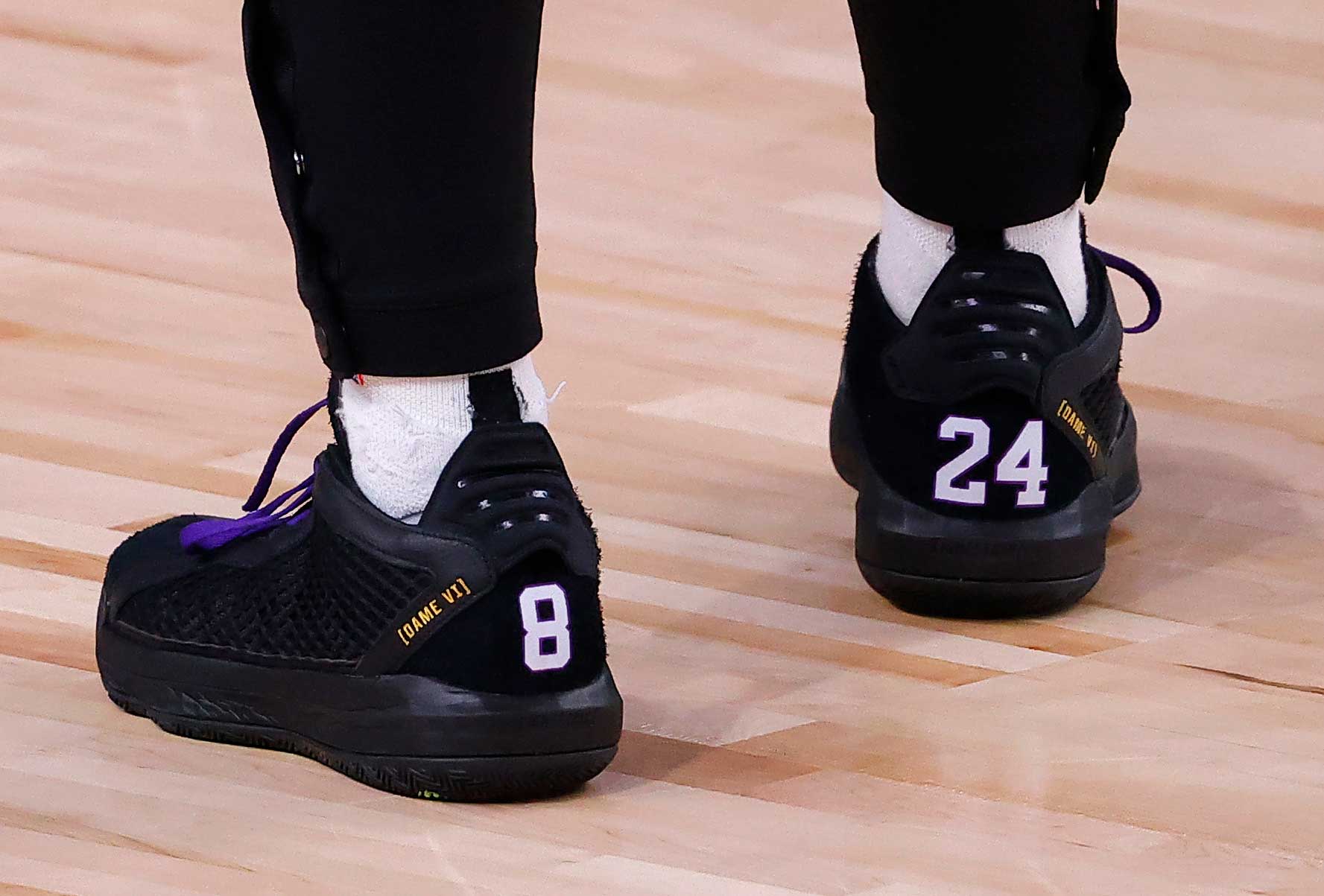 Damian Lillard paying tribute to Kobe Bryant ahead of their playoff match against the Lakers on 24 August.
As his former team bid to advance deep into these playoffs, Bryant's body of extraordinary work is on show once again.
The Lakers have crafted special Black Mamba uniforms, featuring a black snakeskin print and a logo with 16 stars to celebrate each one of their championships.
Immortalised in digital form in the Mamba Forever Edition of NBA 2K21, it is a design crafted by Kobe himself.
A bequest to inspire the Lakers towards a possible 17th title, during the slice of the season when he would have watched from the sideline, animatedly willing them on.
The Playoffs were when Bryant's alter-ego came into its own. Black Mamba represented his code of honour to throw everything at the boldest of wagers.
The embodiment of embracing the high stakes, for the enticing chance of walking away with the jackpot.
Game Knows Game
Flash back to the night Kobe Bryant went off for 81 points to pummel the Toronto Raptors during his absolute prime.
Or even, the 60-point explosion in his very last outing for the Lakers in April 2015 when the clock was rolled back and the Utah Jazz were rocked on their heels.
Relive five NBA championships or two Olympic golds. Grand stages, gargantuan performances.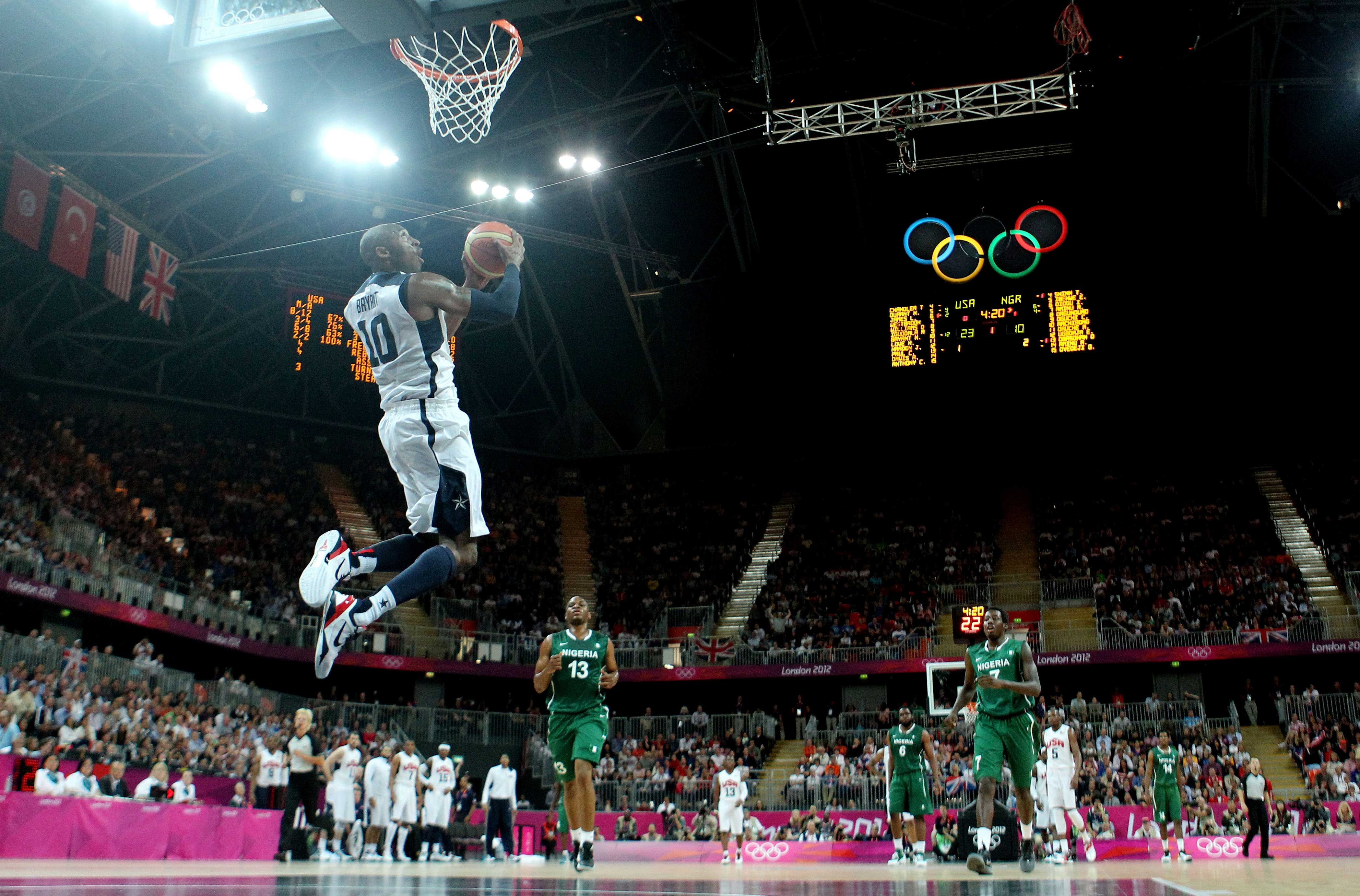 Kobe at the 2012 Olympic Games in London.
However, within the nights where the spotlight illuminated just a little less, the potion for the Mamba venom was quietly concocted in Bryant's personal lab.
"I played against him when GB met the USA in a pre-Olympic exhibition ahead of London 2012," recounts former Great Britain forward Kieron Achara.
"Although he was amazing, I felt like he was just going through the motions. It was like he was practicing. The game didn't really mean anything.
"But it was what happened that night that you really got an insight into what separated him.
"We went out in Manchester after the game and only two players from Team USA weren't there.
"One was Anthony Davis. Coach K didn't let him go out because he wasn't yet 21. The other was Kobe. He was in a gym somewhere. Because he hadn't liked the way he'd played.
"I remember talking to Deron Williams about it and he was telling me a story. He said: 'I don't want it as much as he does. No-one does.'
"No-one was willing to out-work Kobe Bryant. People understood that. And they accepted that. But that's what he is renowned for and what his legacy is."
Growing up in Italy, Bryant witnessed the endeavours of his father Joe as a basketballing globetrotter at first hand. Athletic prowess was a fabulous inheritance.
From observing practices in Joe's various stops over seven years, insights were gained and stored in his internal hard drive, to later manifest themselves in moves worthy of a video game.
Kobe in the latest NBA2K21 release.
He nurtured parallel ambitions outside those gyms, and football could so easily have poached him away as a child. A young Kobe was inspired by the creativity of calcio, the skilful maestros of AC Milan fuelling his lifelong appreciation of The Beautiful Game.
"Watching (Ruud) Gullit, (Frank) Rijkaard, (Marco) Van Basten and (Paolo) Maldini was always a dream for me," he once declared on a visit to Milan's training ground.
"It's always been my favourite squad. Back in Los Angeles, I have an AC Milan shirt and scarf inside my locker. And I see them every day."
Basketball was simply too meshed into his DNA to truly see soccer as more than a flirtation, however.
The future NBA MVP and 18-time All Star bet on himself from an early age, an investment he always expected to deliver rich returns.
Some attain wealth and bask. Obtaining more dollars than one could ever count was never his aspiration.
"That approach to his craft, of wanting to be the best player in the world - that was his goal," Achara notes.
"For other people, there are other things that enter the grand plan holistically. Kobe was dead set on one thing."
Supremacy.
Like thieves, players steal. The ball, but also moves and philosophies.
Bryant's dedication offered a lead to follow and emulate.
"I never forgot that he was in the gym when I was in a bar," Achara adds.
"I almost felt a sense of guilt after that, being out when he was probably working. But it also brought that wow factor. Because he was 34 then. He'd done everything. And yet he was still focused.
"And you know there are players around the world, whether they are kids or pros or whatever, who have learnt from that work ethic.
"You can look at his games now and say 'he was really good.' But you also understand why he was as good as he was - and that's an important lesson."
Dear Daughter
The overlap between athletic legend and the cerebral creative within Kobe Bryant was captured for posterity in his poetic tribute to his sport.
Dear Basketball was a love letter which he addressed to his obsession. One which translated to the screen in an animated film that earned him an Academy Award.
He knew the sacrifices demanded for his pursuit, not just for himself but from his family.
Hence, in retirement, family came to the fore, even as he constructed a second act of his extraordinary life, and perhaps more beyond.
Still, the breath of a second coming was felt through the burgeoning talent of his daughter Gigi.
A father's desire to open her eyes to the possibilities that lay in store swept him into a new sphere of influence: the women's game.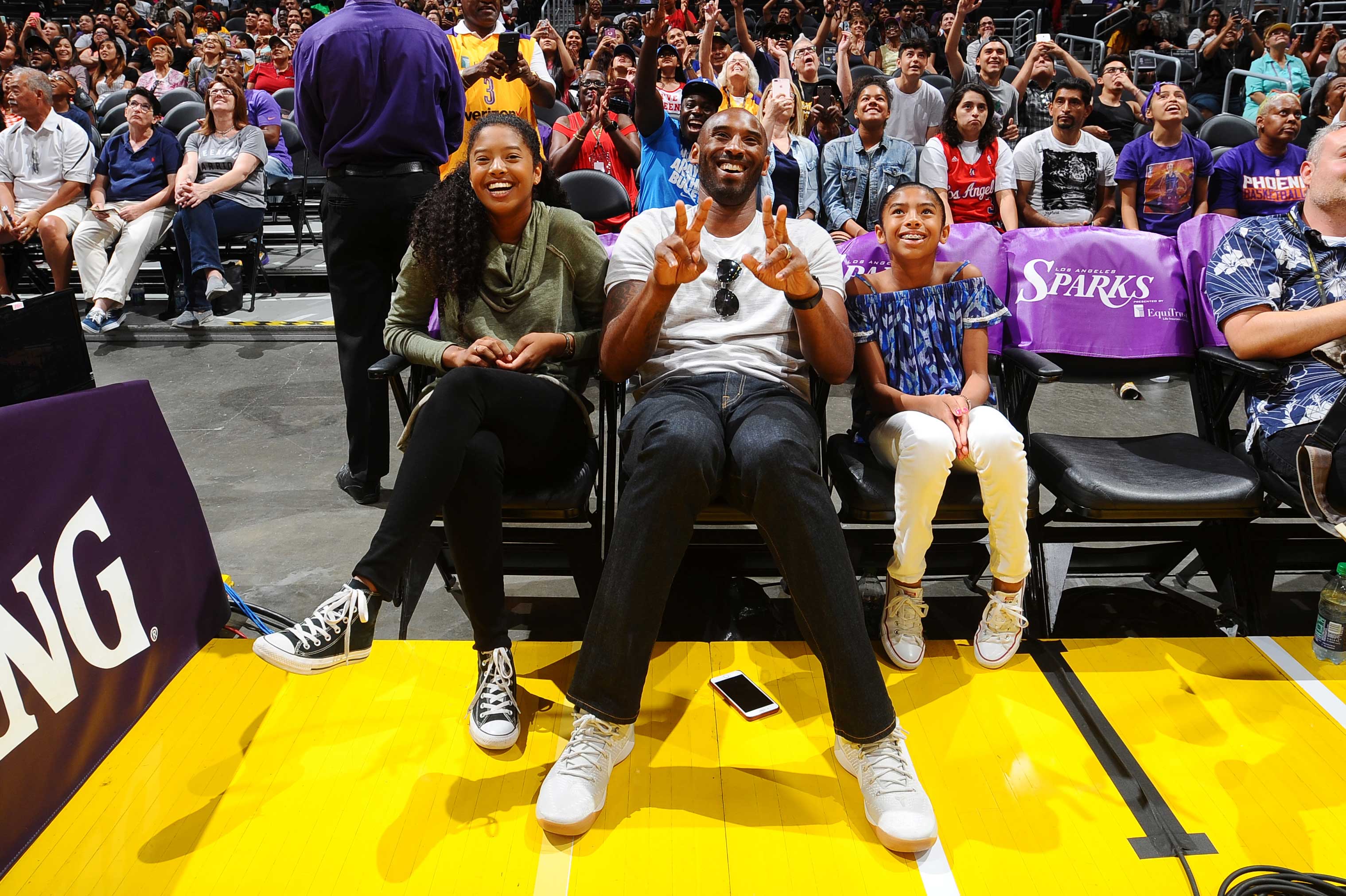 Kobe alongside daughters Gianna and Natalia at an WNBA game in 2017.
While so many NBA players are making their voices heard and serving as passionate advocates for racial equality and social justice in these times of political change, Bryant's loudest advocacy was to push female hoops to the fore.
Talent recognises talent. He appreciated the drive of so many to work over and above to make a work.
"I loved watching him play," Rachael Vanderwal, the point guard on the Great Britain squad that made its own history by reaching the semifinals of the 2019 Women's EuroBasket, declares. "And his work ethic was on another level.
"But what I most admired about Kobe was what he did in retirement in regards to promoting the women's game.
"You could see how much he loved watching and coaching his daughter Gigi, and he knew that maybe one day she would want to go to college or play in the WNBA. So he wanted to help the game grow."
His presence drew attention. Just as for their male counterparts, his line of Nike shoes – also on show in NBA 2K21's MyPLAYER collection - remain front-and-centre footwear in women's hoops.
Kobe lent vast credibility too. Ignorantly troll female hoops as second rate? Not when its cheerleader-in-chief is a true basketball savant.
"He highly respected and supported the women's game," added Vanderwal.
"And for me, that's the legacy of Kobe that I will remember."
Role model
Few athletes get to transcend their sport. Where merely a first name or surname suffices. When even those who have zero knowledge interest on far flung corners of the globe still sense the scale of the who and the why. Pele. Maradona. Ali Jordan, Tiger. Messi.
Kobe.
"The first time I heard about basketball, I heard about Michael Jordan, I heard about Shaquille O'Neal, and I heard about Kobe," one of the current leading lights of the Great Britain side, Ashley Hamilton, recounts.
"Basketball, for me, was something played on another planet. It was Space Jam. 2K.
"But then as I got older, I came to realise what Kobe was achieving. He set a bar for me. I knew I had to put in the work and he's the reason, still, why I feel I will achieve if I put that work in and be focused.
"That's a big part of his legacy.
"He was never my favourite player. But I respected him so much. When he retired, and I read his Dear Basketball poem, it touched me.
"Because in basketball there are highs and lows. He had those too. And I felt like I understood him."
To be a teammate of Bryant's brought ferocious pressure. To be diligent, to be unafraid, to be devoted to the pursuit of victory, to leave everything on the court.
His initial decade in the NBA occasionally hinted at ego run wild. Latterly, it gave way to maturity and reflection, Kobe emerging as a willing mentor to upcoming players as Jordan had once been to him.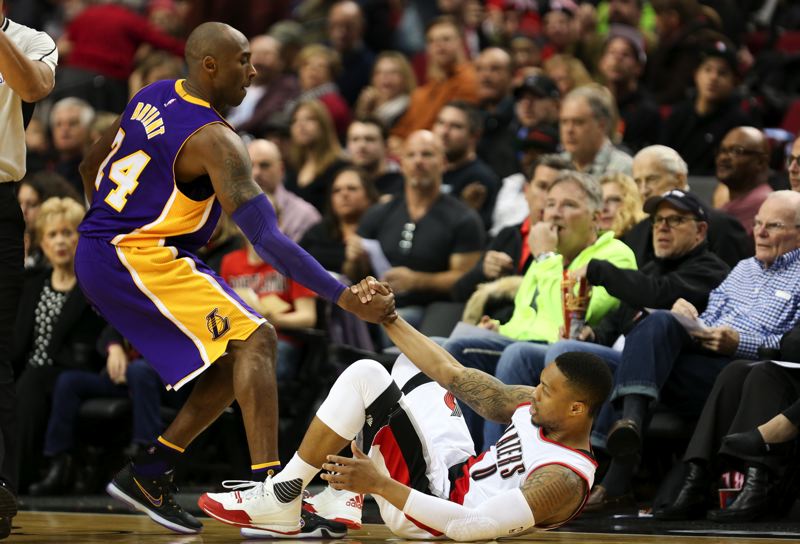 Kobe helping up NBA 2K21 standard edition cover star Damian Lillard in 2013.
To inspirational effect.
"When I was working out at the Lakers, he'd torn his Achilles," said Hamilton. "I'd come in as early as possible in the morning but guaranteed, Kobe would already be there.
"I was working out with the team one time and I was coming off the court and he was standing there on this kind of tricycle to protect his foot.
"I figured 'this is my chance to say hi to him – but what do I say?' I didn't want to just go: 'I met you before at my school or whatever.'
"I decided, for some reason, to go 'you were lucky you weren't out there…' He looked at me as if to go 'hmm… all right, ok'. He smiled.
"It was a cool moment. I got him out of a daze and he acknowledged me and that felt pretty good."
The NBA is a business, foremost. Titles, accolades, those are the virtual currencies which purchase places in the pantheon.
Bryant's wealth of achievements remains central to his legacy.
But whether sporting 24 or 8 or simply blacktop or skins, how he strove to better himself and best all others is the abiding picture for those who dared to dream of beating a path to his door.
"The school I went to, Loyola Marymount, is where he had his camp for kids in the summers," Hamilton recalls.
"I went down one day and he was playing a pick-up game against DeMar DeRozan and James Harden.
"Him and Harden were just having epic battles. It was amazing to get a glimpse of that ability. You really got a feel for what kind of level Kobe was at."
The highest imaginable. Rare terrain indeed.
Forever, where only Mambas dare to tread.
---
NBA 2K21 is available on PlayStation 4 on the 4th September.
NBA 2K21 Mamba Forever Edition will be available for both current and next-generation platforms. It includes dual-access where purchasing Mamba Forever Edition on either current or next-generation platforms provides a copy of the standard edition game on the other generation at no additional cost, within the same console family. A full breakdown of details is available at https://nba.2k.com/.