Greetings! ESPN is proud to introduce the most intense spice blend on the global market today: Postseasoning. This mixture of culinary victory and umami is forged from the impassioned spirit of postseason football competition. Why? Because as the gridiron play heats up, your food should, too. Don't you agree? What a ridiculous question. Of course you do.

The great Roman playwright Plautus once said, "Spice a dish with love and it pleases every palate." We concur. So, project your football fandom onto your game day spread and give your face a mouth touchdown with Postseasoning!


rodney scott
x
espn
recipes
Founder of Rodney Scott's
Whole Hog BBQ in Charleston, SC
2018 Winner James Beard
Award for Best Chef, Southeast
Check out the new cookbook
Rodney Scott's World of BBQ



Rodney Scott's Victory Rack
These flavor-packed, melt in your mouth ribs are gastronomically worthy of headlining your postseason tailgate. And when the skin is caramelized to lock in all that smoky, tangy, spicy goodness, well, that's a mouth touchdown indeed.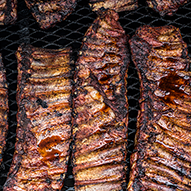 RIBS
3 slabs pork spare ribs, membranes removed
1 1/2 tablespoons Postseasoning
2 to 3 cups Rodney's Sauce (see recipe for Rodney's Sauce below)
Instructions:
Fire up your grill to between 200F and 250F. Season each slab with Postseasoning and make sure you get under the flap, the little piece of meat that dangles on the bone side of the ribs. Place the seasoned ribs on the grill grate bone-side down, with the fatty end toward the middle of the grill. The middle of the grill tends to be hotter, so that will ensure that the thicker part of the rib gets cooked properly. Close the grill and cook: You are looking for caramelization on the ribs before you flip them. That should take about 1 1/2 hours. Open the grill and look for caramelization on the bone. If it's ready, use the mop-flip-mop method. Close the grill. Bring the grill back up to temperature between 200F to 250F. Cook the ribs until the second side gets that same caramelized look. To check doneness, we pick up a slab of ribs with a pair of tongs and check how much give there is. When you pick the slab up, it should sag or flop easily. If a slight tear develops in the meat between the bones, that's another sign of doneness.
RODNEY SAUCE
1 gallon distilled white vinegar
1 lemon, thinly sliced
1/2 cup ground black pepper
1/3 cup cayenne pepper
1 1/4 tablespoons red pepper flakes
2 cups sugar
Instructions:
In a small stockpot, warm the vinegar over medium-high heat. After about 5 minutes, when the vinegar reaches 150F on an instant-read thermometer, just before it starts to simmer, add the lemon slices and continue to cook until the lemon peels begin to soften and wilt, about 10 minutes more. Whisk in the black pepper, cayenne, pepper flakes, and sugar. Continue to cook over medium-high heat until the sugar is completely dissolved and the sauce reaches 190F, about 10 minutes. Remove from the heat and allow to completely cool before using. Once the lemon is removed, the sauce can be refrigerated in an airtight container for up to 8 weeks.

MVP (Most Valuable Pimento)
This ain't your grandmother's pimento cheese recipe, unless your grandmother invented a spice blend specifically created to elevate any and all postseason football food. In which case, your grandmother is awesome.

Ingredients:
1 pound sharp cheddar cheese (yellow is traditional, but white is fine)
8 ounces cream cheese, at room temperature
1 cup Duke's mayonnaise
1 cup jarred diced pimentos, drained
3 tablespoons Postseasoning
1 teaspoon Colman's mustard powder
1 teaspoon onion powder
3 ounces pork skins
1 medium bag of celery stalks, for serving
Instructions:
Using a box grater, shred the cheddar on the medium shredding holes into a medium bowl. In a large bowl, mix together the cream cheese and mayonnaise. Add the pimentos, Postseasoning, mustard powder, and onion powder, mixing until blended. Fold in the grated cheddar, making sure it is evenly incorporated. Transfer to a serving bowl and serve as a dip with pork skins or celery stalks. Pimento cheese can be refrigerated in an airtight container for up to 1 week. SERVES 8 TO 10 AS AN APPETIZER.

RODNEY'S PRO TIP: Don't use pre-shredded cheese. It's coated with cornstarch to prevent it from clumping. Only freshly grated cheese will give you the creamy result you're looking for.

Hail-Mary Deviled Eggs
Imagine. It's 4th and a mile. You run a fade. Over your shoulder, you sense an incoming football. You jump and fight for the contested catch - and you succeed. Touchdown. That's what every bite of these flavorful Hail-Mary Deviled Eggs feels like. Mmmm.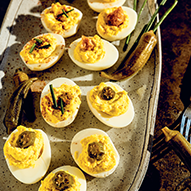 Ingredients:
12 hard-boiled eggs, peeled
1/2 cup Duke's mayonnaise
2 teaspoons yellow mustard
1/2 teaspoon Diamond Crystal kosher salt
1 tablespoon Postseasoning
Instructions:
Halve the hard-boiled eggs lengthwise and gently scoop out the yolks into a bowl. Reserve the empty egg whites. Add the mayonnaise, mustard, and salt to the yolks and mash together with the back of a fork until smooth. Using a small spoon, scoop some of the egg mixture back into the whites, making a bit of a mound. Sprinkle Postseasoning on each half of Deviled Egg for some kick and garnish with your chosen topping.

Taters Gonna Tate Potato Salad
Hundreds of years from now, we will remember 2022 as the year potato salad changed forever, thanks to the flavor-enhancing powers of Postseasoning. One bite of this elevated classic will have you throwing your carb-conscious diet out of bounds forever.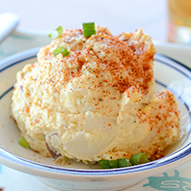 For the potatoes:
1 3/4 teaspoons Diamond Crystal kosher salt
3 1/2 pounds red-skinned potatoes, skin on, washed and quartered
For the dressing:
2 cups Duke's mayonnaise
1/4 cup yellow mustard (French's or whatever you prefer)
1/2 cup distilled white vinegar
1/4 cup fresh lemon juice
1/2 cup sweet pickle relish
1 tablespoon Diamond Crystal kosher salt
2 teaspoons sugar
2 teaspoons freshly ground black pepper
1/2 teaspoon red pepper flakes
1/4 teaspoon cayenne pepper
1/2 cup finely diced celery (1 to 2 stalks)
1/2 cup finely diced red onion (about 1 medium onion)
For the salad:
4 hard-boiled eggs, peeled
1 1/2 tablespoons Postseasoning
1/4 cup thinly sliced scallions (optional), white and green parts (about 2 scallions)
Instructions:
Cook the potatoes: Bring a large saucepan of water to a boil. Add the salt and quartered potatoes. Reduce the heat and gently boil the potatoes until they yield easily when a knife is inserted through their centers, 15 to 20 minutes. While the potatoes are cooking, make the dressing: In a large bowl, combine the mayo, mustard, vinegar, lemon juice, relish, salt, sugar, black pepper, pepper flakes, and cayenne and mix until incorporated. Whisk in the celery and red onion. Taste and adjust the seasoning if needed. Make the salad: Once the potatoes are tender, drain them and add them (while hot) to the bowl with the dressing. Use a large spoon to break up the potatoes to really get the dressing into everything while the potatoes are hot. Chop the eggs to your liking or press them through a sieve to break them up into fine bits. Fold the eggs into the salad. Finish the salad with a sprinkle of Postseasoning and the sliced scallions (if using).

Enjoy Postseasoning during the college football & nfl postseasons