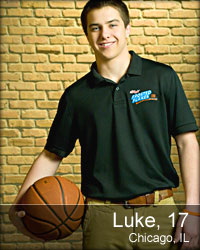 Meet Luke, our very own Earn Your Stripesô Sports Reporter.

Favorite Sport: I love to play football, whether itís in my backyard with friends or with my high school team. As long as Iím out there doing something active, Iím having fun!

Favorite Professional Team: Chicago Bears!

Favorite Sporting Event: I love watching sports, thereís nothing like going to a game! Iím a big fan of football or baseball games because I like big plays and nonstop action.

Favorite Sports Moment This Year: Thatís a tough one! Santonio Holmes made a great catch at the end of the Super Bowl, but Iíd have to say my favorite moment so far was at the NBA All-Star Game Slam Dunk Contest. Watching Dwight Howard dunk on a 12 foot rim was incredible!

Favorite Memory From Last Year: There were so many great memories last year, itís tough to choose! Being the Earn Your Stripesô Reporter is such an awesome experience. I got to travel all over the country to meet kids just like you! Iíd have to say one of my favorite memories was going to Williamsport for the Little League World Series. Watching kids from all over the world compete against each other was really an amazing thing to see. I learned so much last year, and whether it was the ESPYs Breakfast, Award Shorts, Being at ESPN or Chant Across America I always had fun ďEarning MyĒ Stripes with all of you!

This Year I Canít Wait To: To do it all again! Iím really excited to be back as the Earn Your Stripesô Reporter this year, and am looking forward to bringing you all the cool new sports content right here on www.espn.com/earnyourstripes.